Edward Nathan Larter
FEBRUARY 13, 1923 – MAY 9, 2023
Remembered With Love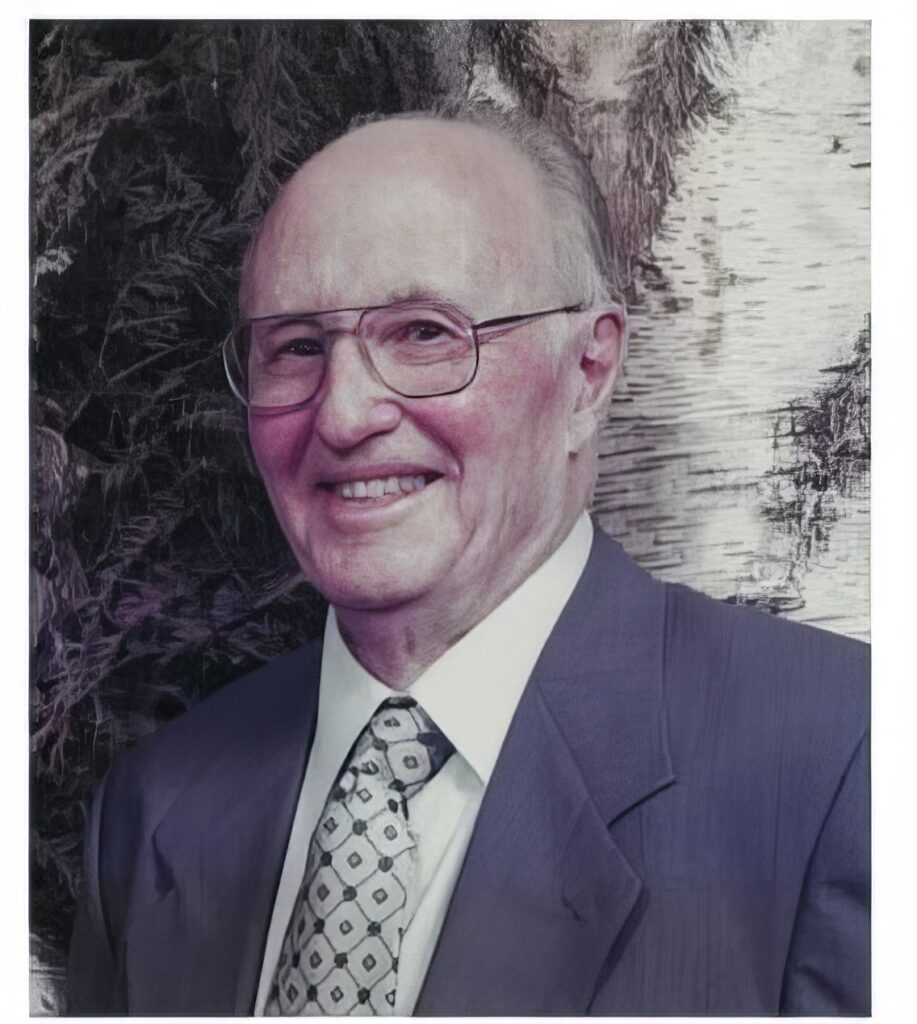 (Dr.) EDWARD NATHAN LARTER
1923 – 2023
Peacefully, with his sons John and Mark at his bedside, Ed Larter passed away on May 9th 2023. He will be lovingly remembered by his 3 sons, Allan (Judie) of Kelowna B.C., Mark (Shawna) and John both of Winnipeg. He will be dearly missed by his grandchildren and great grandchildren, Michael (Coral) and children Bryce and Halle, Christine (Aaron) and children Mason and Violet of Winnipeg; Justin (Emily) and Alanna of Vancouver. Ed was predeceased by his wife of 62 years, Barbara, whom he dearly missed. Ed lived to the grand age of 100 years, and was predeceased by many, including his brother Stanley, sister in law Margaret, niece and nephew Lily and Marland of Alberta.
Ed grew up on the family farm in Southern Alberta. As a young man, he served as a pilot in the R.C.A.F. in England during WWII, where he met his wife Barbara. He was proud to be a veteran of WWII. Upon his return from the war, he pursued higher education earning B.Sc. and Master of Science degrees in Agriculture from the University of Alberta. He furthered his studies earning a Ph.D. in Genetics and Plant Breeding at the University of Washington State. His career began in 1954 at the University of Saskatchewan with both teaching and research positions in cereal grain genetics and plant breeding. He accepted the position of Research Chair at the University of Manitoba in 1966 with the mandate of developing an international program for the synthesis and development of a wheat-rye hybrid (Triticale), as an international grain crop. Over the next 24 years his research attracted over 40 graduate students to earn their M.Sc. and Ph.D. degrees working under his leadership. Post Doctorate Fellows and Senior Scientists from many countries visited his labs to gain experience in his area of research. Ed travelled extensively to collaborate and establish triticale breeding programs though out the world. When Ed retired from the U. of M. in 1989, he was awarded "Professor Emeritus" for his research and teaching achievements.
During his retirement years, he loved playing, writing, and recording music that reflected his strong prairie roots. Later, he enjoyed Celtic and Irish music, playing with band mates at many Senior Centers and at Folklorama in Winnipeg.
The family wishes to express appreciation to the staff at Deer Lodge Centre for their dedication and care.
A Celebration of Life was held 10:00am May 18, 2023 at Thomson "In the Park" Funeral Home 1291 McGillivray Blvd, Winnipeg.
Fond memories and expressions of sympathy may be shared at www.thomsoninthepark.com for the Larter family.