Irish Fest 2018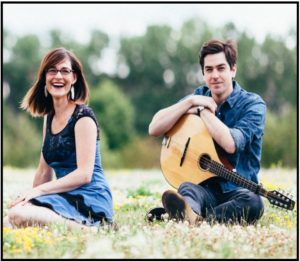 The Irish Fest this year was held Friday Oct 12 & Saturday Oct 13. At Crescent Fort Rouge United Church , 525 Wardlaw Ave, Winnipeg, MB In OSBORNE VILLAGE
With the Friday Night Kick off held at the Irish Club. This was a chance for the guest artists to meet with the local Irish Traditional Music community in a Session and the audience enjoyed the music. The music workshops on Saturday were well attended as well as the evening concert with our guests Norah Rendell and Randy Gosa.
NORAH RENDELL Chicago Irish American News has named Norah "Best Female Vocalist of 2016" in their annual Top TIR (Tradition In Review) awards! This is Norah's third time winning this award as a soloist (she was named "Best Female Vocalist" in 2001 and 2012), this time alongside legendary Irish and folk music artists such as Máire Ní Chathasaigh, Buttons and Bows, Colin Farrell and James Keelaghan."
Randy Gosa has been playing Irish music since 1999. During his undergraduate program at the University of Wisconsin-Milwaukee, he studied with several renowned Irish music masters including Liz Carroll and Sheila Shigley, studied at the University of Limerick, Ireland with Niall Keegan and Sandra Joyce, and completed the UW-Milwaukee Celtic Studies program. A founding member of the Milwaukee based Celtic trio Cé, he performs nationally with the band Myserk and collaborates with several accomplished midwest-based musicians including guitarist/singer Brian Miller, flute player Brett Lipshutz and Celtic harpist Kim Robertson. In addition to performing, he teaches at the Irish Fest School of Music and is an active Ceili/set dance musician in Milwaukee. Randy's versatile musicianship has been described by critics such as Alex Monaghan (Folk World) as "driving, percussive, lyrical, gentle, dominant by turns."
Friday, October 12 Festival Kickoff Evening
————————————————————————————————————————-
Saturday Oct 13th Daytime
Instructional Workshops with instructors Susan Hammer, Paul Hammer, Terry Galloway, Maurice Guimond, Norah Rendell, Randy Gosa, Hugh Rice, Karen Rice, David Strang, Cathy Rayner, Maeve Gray and Larry Fisher
Fiddle, Tenor Banjo/Mandolin, Irish Song, Flute & Whistle, Guitar, Bodhran and Harp


————————————————————————————————————————-
Saturday October 13th Evening
GALA CONCERT featured NORAH RENDELL & RANDY GOSA
Plus Winnipeg's own FLATLAND CEILI BAND
————————————————————————————————————————-
Thank you to all the volunteers and venders that helped to make this a fun and successful weekend.
Remember : To love what you do and feel that it matters —- how could anything be more fun . " Katherine Grahern"