Welcome to COMHALTAS WINNIPEG
Comhaltas Winnipeg

is the local Chapter of the International Irish Cultural Organization

Comhaltas Ceoltoiri Eireann

. We meet monthly to plan events such as the Winnipeg Irish Festival, teaching workshops, concerts, sessions and other Irish Traditional activities.
Comhaltas Ceoltoiri Eireann (pronounced coal-tis kyol-tory air-in) is an International Organization dedicated to the preservation and enjoyment of Traditional Irish music, dance, language and culture. Founded in 1951 in Ireland, Comhaltas has grown to encompass four continents, with over 400 branches worldwide (60 in North America), CCE has no political or religious agenda and you do not have to be Irish to join or attend our events. The organization offers a wide variety of activities that include ceilis (dances with live traditional music), music sessions, Irish dance workshops, celebrity concerts, music lessons and Irish language classes.
The Story Behind Comhaltas
In January 1951, representatives of the Thomas Street (Dublin) Pipers' Club went to Mullingar for a meeting with traditional music enthusiasts from County Westmeath.
Two ideas which had already been mentioned amongst traditional musicians were discussed at this meeting; the first was the founding of an organization to promote Irish traditional music while the second was the organizing of a great annual festival of Irish traditional music, song and dance. A further meeting was held in February, and at this meeting it was decided that, in conjunction with Feis Lár na hÉireann (a Gaelic League Feis which had been held in Mullingar for many years), a Fleadh Cheoil would be organized in the town in May over the Whit weekend.
In the years before the Fleadh, although the ordinary people of Ireland loved traditional music, the thousands of traditional musicians in the country were largely unappreciated in popular social and intellectual circles. The aim of the Fleadh was to promote traditional music and to arrest the decline in its popularity. The cream of traditional Irish musicians attending the Fleadh played a major role in furthering this aim.
Fleadhanna Cheoil gave traditional musicians a platform where they could play to an appreciative audience and where traditional style was the criterion. That first Fleadh Cheoil in 1951 attracted only a few hundred patrons – a small but enthusiastic crowd. Within five years, however, this annual gathering had grown to become a great National Festival attended by thousands of traditional musicians, singers, and dancers from all parts of Ireland and overseas.
On October 14th, 1951, at Árus Ceannt, Thomas Street, Dublin, the first standing Committee of Cumann Ceoltóirí na hÉireann was elected. At a meeting in St. Mary's Hall, Mullingar, on January 6th, 1952, the title of the organization was changed from Cumann Ceoltóirí na hÉireann to Comhaltas Ceoltóirí Éireann.
Branches of Comhaltas were formed all over Ireland, organizing classes, concerts, and sessions at local level. Soon there were County and Provincial Fleadhanna, and later came the Fleadh Nua, the Tionól Ceoil, Seisiún, and the Scoil Éigse.
In the past 50 years, the Fleadh and Comhaltas have grown together. Irish exiles have played an active part, such that musicians from Liverpool, Birmingham, London, and New York often take their annual holidays to coincide with the Fleadh. Comhaltas now has more than 400 branches, established in every Irish County, in Britain, the US, Canada, and worldwidein places such as Japan, Hungary, Sardinia, and Australia.
CCÉ Branches
The branch is the fundamental and most important unit of the Comhaltas movement. It is the branch that makes it possible for our native cultural characteristics to be propagated and strengthened within the community. Members come together to organize sessions, classes, concerts, festivals, exhibitions, fleadhanna cheoil, and other competitive events both for their own enjoyment and that of the community at large.
These activities, together with CCÉ educational facilities further the aims and objectives of the movement while helping to develop creative skills and artistic talent.
---
May you always find blue skies above your head,
Shamrocks beneath your feet,
Laughter and joy aplenty,
And kindness from all you meet.
– Gaelic Wish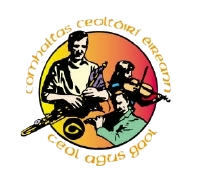 _____________________________________________________________________
For information on "Irish Fest" Concerts & Weekend Workshops