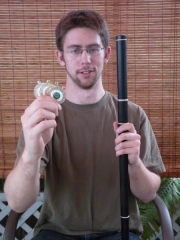 Kyle Borley is the first member of the Winnipeg Comhaltas Chapter to attend the Midwest Fleadh Cheoil!!!!!
He won First in Over-18 Tin Whistle, the Miscellaneous Category on Piccolo, as well as Men's English Singing. 
He also took Second on Over-18 Irish Concert Flute.
 He had just spent a year living in Ireland, busking on the streets of Galway while also playing with many great local musicians.  
 Kyle will be going to the Fleadh Cheoil na hEireann held in Cavan, Ireland  ~ August 16-22, 2010  (www.fleadh2010.ie)
 Let us wish him well and all the luck in this competition.
 www.kyleborley.ca  :    www.myspace.com/kyleborley
 The 2010 MIDWEST FLEADH CHEOIL was held in Forest Park, Illinois, June 25-27, 2010 and was hosted by Murphy Roche Irish Music Club The Midwest Regional Fleadh is one of several qualifying events where musicians of all ages compete to qualify for a spot in the world championship of Irish music known as the All-Ireland Fleadh held in Ireland.
This world championship, the All-Ireland Fleadh, has launched the careers of many famous persons such as Martin Hayes, Eileen Ivers, Matt Moloy, Frankie Gavin, Liz Carroll and John Williams. The title of All-Ireland Champion is a much sought after accolade whose luster stays with the winners for life."  www.midwestfleadh.com